[youtube https://www.youtube.com/watch?v=nedjfYUF7Rs]
Your Eyes Open Wide

There have been times, I've wondered what you see in me
Stuck in my mind, the ruts of failure running deep
I try to think, of ways I can appease my guilt
You never blink, as you undo the beast I've built

CHORUS:
(Cuz) You see and you know
All our brokenness inside
And you dare to love
With Your eyes open wide

I drift away, the current sweeping me downstream
I feel the fade, this hopeless feeling crashing in
The enemy, has filled my heart with dread inside
How can this be? You're eyes betray a Father's pride

(CHORUS)

BRIDGE:

I'm undone when I think of how
You know the depths of me
And that you love me more than I could dream

Outro:

In what you're goin through,
I wont give up on you
(I see you oh my love)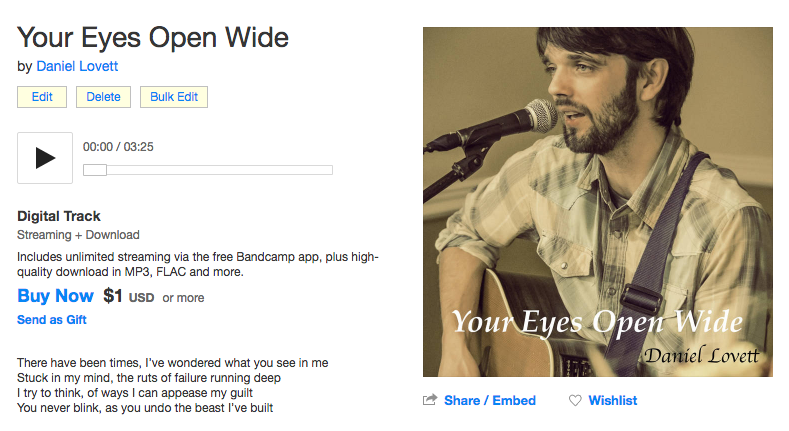 STORY BEHIND THE SONG
Years ago Catherine and I had the idea for a song about how God is committed to a relationship with us even though he fully knows exactly what he is getting into. He knows it will get messy and be difficult and often slow going when it comes to us yielding to righteousness. And yet, He's all in.
We had the chorus and bridge that just sat on the back burner for a few years simmering till it was nice and tasty (nothing like a slow cooked song), but we never could settle on the verses. We tried a few times and nothing ever seemed to fit.
Then one day, not too long ago, I was taking the kids to swimming lessons. I would have some time to kill while waiting for them but had no book. So I grabbed some paper and a pen and in a half hour I had written the verses.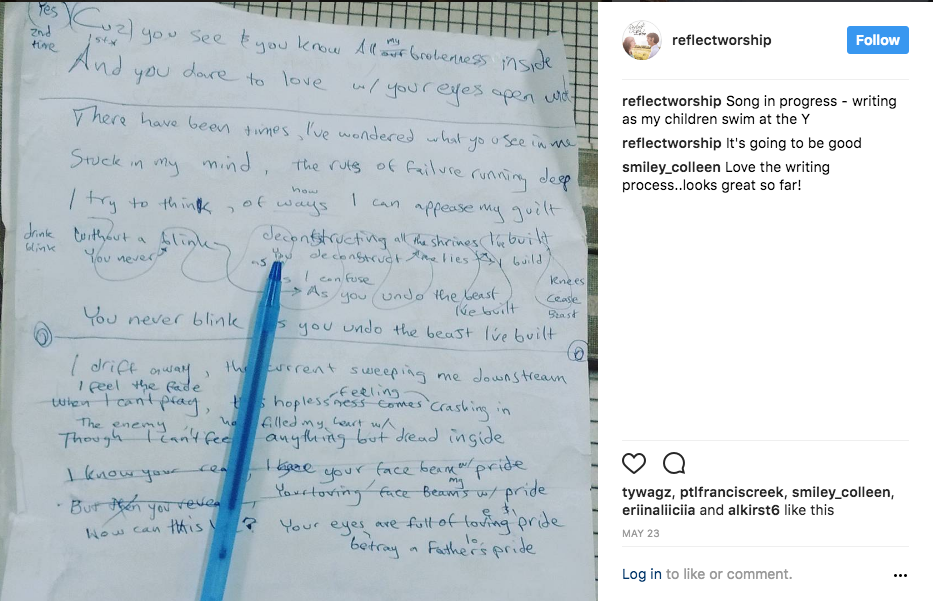 Emma came up to me on the benches at the side of the pool and asked what I was doing.
"I just wrote a song! You wanna hear it?"
I didn't know there was a melody yet. I hadn't really worked that out but I sang it perfectly the first time and it stuck. Wow! Within an hour I was at a nursing home concert and sang it acapela. I hadn't worked out the guitar yet.
Well, the recording came together so perfectly and you want to know the crazy part? I did not feel like recording. I hardly ever do. But you just do it regardless of how you feel. It opens up the flow and you get the ball rollin down the hill. Momentum. Movement. Purpose. Happiness. =)
I decided to collaborate with my cousin Esther Eyre. She plays the piano and recorder on this one. Click HERE to listen to more of her music!