I want everyone to hear my new love song for my wife! This is the story of our life together.
Love Love Love by Daniel Lovett
LYRICS:
our hands touched as we sat on the grass in the park,
on that fourth of july after dark
and the fire in the sky, could not compare,
with the fire that lit up my life
you looked to me and our destiny flashed before my eyes
of how it could be, how it could be, just you and me

holding hands in the forest with our maker before us,
we took our solemn vows
for the first time i knew, that me and you
would never be apart
oh there's someone to share every joy every care
someone to lean on and trust
and to love love love (someone to love) mmmmmm

if i could live ten thousand lives,
i'd spend every one of them with you by my side
you bring me so much joy and life
a universe opened wide

and now when our daughter keeps on asking for water
long past her time for bed
crying "papa" at midnight, i'll help her to sleep tight
so you can rest your head
i hope that you dream of lovely things, and what our future holds
i know it is love, love, love, i know it is love

if i could live ten thousand lives,
i'd spend every one of them with you by my side
you bring me so much joy and life
a universe opened wide
you're an endless holiday, an angel of God's grace
you have filled my life with love love love

remember how we would talk, exhausting every thought
late into the night
you gave me, sparkling dreams
& someone to hold thru the night… and so much love love love

Ohhhh love love love (4x)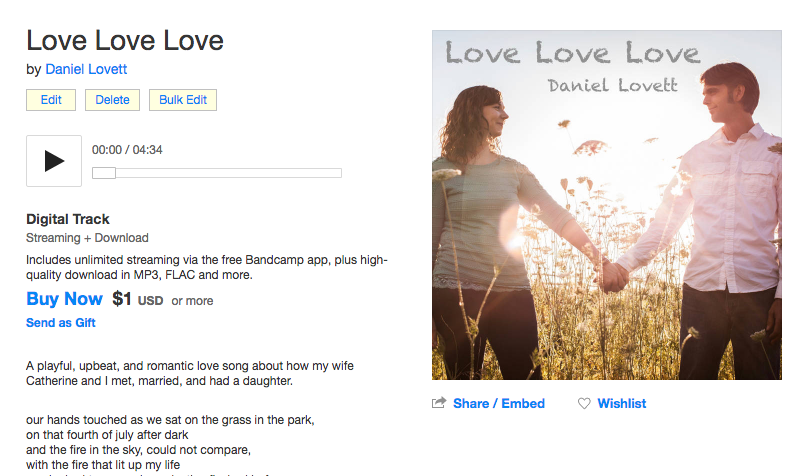 Download the studio version of this song HERE!
Story behind the song:
I am planning to make a video with Catherine of how we met. It's an amazing story! Before meeting her I had sworn off dating and made a promise that the next girl I kissed would be my wife. "You bring her to me God", I prayed.
Well, when I first saw Catherine I knew she was the one. We were likely best friends in the realm before this one and had agreed to meet and marry in this life. I do agree with what the Bible teaches about how we existed with God before having our memories wiped to have this fresh and amazing human experience. (Like this one: "Before I formed you in the womb, I knew you!" Jeremiah 1:5, and many more!)
We were destined to be together. And God let us both know it. She had been given dreams about me and was even told my name before we met. You just have to watch the video of our supernatural love story once we make it. Subscribe so we can stay connected!
One of our first interactions happened on the fourth of July watching fireworks. Her mom was there and I had the strongest impulse to call her "mom".
I see my wife as a native of the kingdom of God. She was raised to love and know Jesus and commune with the Holy Spirit in a very pure way. Her name Catherine means "pure one" and she certainly is! I have never met a more godly young woman before or since. She knew God and would hear very clearly from the Holy Spirit.
It's been an amazing 16 years of marriage and it was such a joy to sing this song to her for the first time just the other day.
I love the third verse to this and my Emma proved it true once again tonight. Just before drifting off she says "water!" and I had to get up and go get her some. I love my kids and also my children. Ok, so I don't really have any baby goats (kids) but if I did, I'd love them too.
I tell my children stories every night and thought about starting to share some of them with you on my personal blog: www.daniellovett.com – there's a reason to go there and subscribe!