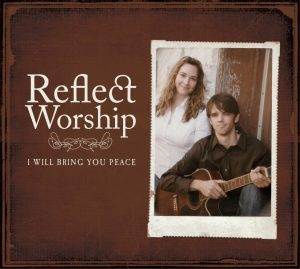 Here is what people are saying as they experience our newest album, "I Will Bring You Peace":
"Enter the process of transparent heart cries, letting go, the gentle wooing of God's love, biblical and personal declarations of faith and the delight of receiving God's love all in one CD!  Musically gentle and delightful yet deep calling unto deep.  A treasure to be shared." ~ Jane Wojta
"The band Reflect has such a unique dynamic because of their duo between husband and wife. With their music you can be assured that before talent, character and relationship come first which is where the depth of their music really begins. This music is meant to uplift the spirit and that's what it does for me. When I am hitting lows in my walk with God I have found that sitting still and letting God work in me through the lyrics and the peaceful music, is what my spirit needs during hard times. Thank you Reflect for the depth and care of your hearts!"       ~    Christopher Peanosky – focus.one Support Staff
I have submitted our songs to a few independent A&R companies in Nashville and received some really encouraging responses.
Here is what Taxi, the largest independant A&R Company had to say about our song, Take Me Away:
"This lovely song features a well-crafted arrangement and an emotionally captivating vocal performance… I love how the arrangement builds as the performance unfolds. In terms of emotion, the bridge seems the most potent aspect of the arrangement. The production sounds very professional." – Taxi, The World's Leading A&R Company.
Here is what an independent  A&R rep Austin Cook from Nashville had to say after hearing a few of our songs:
"You See Me" – Good song, I like the hook in the chorus, its pretty good. What I like about this song is that its short and sweet and doesn't linger on too long.

"Erased" – Good message. Pretty good hook, I do like it.

"Take Me Away" – I love this song, good job. Good chorus. You both have good voices.
Listen to and download the album yourself at: http://reflect.bandcamp.com/album/i-will-bring-you-peace
Support our ministry by purchasing "Reflect Worship – I Will Bring You Peace":