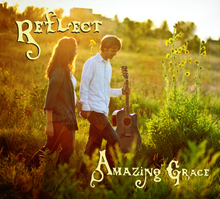 We are now offering both of our Hymns albums as free downloads (SEE BELOW), for you to enjoy! These albums contain many of the most well loved Hymns of the faith, like Amazing Grace, In the Garden, and Old Rugged Cross, etc…
I once walked into a facility and found residents hovering over the CD players singing along to our CD, Reflect Hymn. The nurse told me that they do this every day and, "Do you have another album?" (They had to listen to it every day too!) I was glad to report that I did: "Reflect Amazing Grace".
Highlights of our album Reflect Amazing Grace are, of course, Amazing Grace, featuring Catherine on her piano accompanied by strings and an all new Hallelujah chorus (watch the video). Other tracks that stand out are the opening track, a Sufjan Stevens inspired Fairest Lord Jesus. You might just find yourself humming the guitar solo of How Firm a foundation for awhile… as I did. Before the Throne of God Above opens with a lush open "C" tuned guitar and also features tasteful drums… I could mention something interesting about all the tracks and our hope is that you'll take the time to listen to them all!
Our version of I Surrender All was inspired by a song by the band The Civil Wars called Poison and Wine. It has been so freeing for me to see what a privilege it is that we "get to" surrender to love. Love is who God is! Discard all former misconceptions. He is a loving heavenly Papa who accepts you and loves you unconditionally just as you are! His grace is transforming. It is a life changing experience to realize just how very loved you are. This love, and His grace (his smile and loving embrace) is the most amazing thing you could ever experience. This is who we "get to" surrender and give our all to… Jesus. Yeshua (whose name means "I AM Salvation"). God in the flesh who went to the cross for you and me because he loves us that much! Receive his kindness toward you in this very moment.
Our hope and prayer is that you are blessed by these collection of songs and then find someone to share this gift of music with!
Our ultimate goal in sharing this is to provide a free resource for those who serve residents in Nursing Homes and Hospice Care. We want to bring smiles and encouragement to people in nursing homes and also to bring comfort to those in their last moments in hospice care. (See testimonies below)
We need your help to accomplish this goal!
Here are a few ways you can help:
1.) Will you share this link on Facebook or elsewhere to spread the word about what we are trying to accomplish? Copy and paste this link from our website:
http://reflectworship.com/2015/04/free-hymns-albums/
or the noise trade link: http://noisetrade.com/Reflectworship/reflect-amazing-grace
2.) Do you have a loved one or know someone in a nursing home? Please download the music, put it on a CD, and send it to them! Of course you can also purchase our Hymns CD's at our online store (or at Lighthouse Christian Books in Green Bay, WI), and bring a copy to someone in a nursing home.
3.) Do you know someone who works at a nursing home? Please send this message to them!
4.) If you are so inspired, you may Donate to our ministry so we can continue supplying albums for free to nursing homes. Donate button is on the right upper side of this website, or below.
Enjoy our albums Reflect Hymn and Reflect, Amazing Grace!
FREE DOWNLOAD:
You can also go to www.reflect.bandcamp.com to begin downloading.
Be sure to download both albums!
TESTIMONIES:
Since its release, I have been sending out the "Reflect Hymn" CD to various Nursing home facilities throughout Northeast Wisconsin and recently I received back this report about how the Reflect Hymn project is being used:
"Daniel, Having a chance encounter with an old friend who works the night shift at our local nursing facility, I wanted to share with you her comments about your music.

She told me that a copy of your music on CD; Reflect Hymn, appeared at their nurses station, and that they had been playing and enjoying the music.  However, she said the greatest benefit seemed to come when your music was played exclusively in the rooms of those patients who were experiencing their last days.  She told how the staff all remarked that such a great sense of peace seemed to envelop the room and the people in attendance, that they have a policy of always playing this music for such times as this as it provides such comfort.

I thought you might want to know this, since I know you send out these CD's as a sample of your work when booking concerts at various Nursing Homes.  Even though this facility has never had you there in person, your music is being used and valued, which I just 'happened' to find out a few weeks ago during my 'chance encounter'.

Blessings, Cindie"
I was so moved when I received this report. What an awesome blessing! I would love to see every nursing home throughout Northeast Wisconsin to receive a Reflect Hymn album for their use for the above mentioned purpose, or to use for a church service or bible study, or even just for music therapy. If this is something that you would also like to see happen please donate toward this ministry.
Here is another letter I received:
Hi Daniel…

Recently you came to Shady Lane Nursing Home here in Manitowoc to entertain the residents and I was in attendance with my mother who was a resident there at the time. She just passed away this past Thursday March 25th. I bought one of your CDs and played it for her every night when she was drifting off to sleep. This past week when she had slipped into a deep sleep on comfort care at Shady Lane I played it in her room….it was very soothing. I think the staff at Shady Lane enjoyed it as well. I plan to give these CDs away as a result. If it is alright with you I would like to play it next to her coffin at the funeral.

Thank you.
A Recent Encounter (2015):
I was about to go in and entertain at a nursing home when a lady stopped me and asked, "I am a hospice nurse and I have your Reflect Hymn CD. I use it so often that it doesn't play anymore. Do you have another one with you?"

I was able to provide her the Reflect Hymn album and also our latest Hymn project Reflect, Amazing Grace. She was on her way to someone who was passing away that very day.
Thank you for listening,
Daniel Lovett