The story of John Newton, the man who wrote Amazing Grace, inspires and moves me. Here was a man who underlines the profound truth that there is no one beyond the grace of God. There is no one beyond his reach of redemption. (For a more thorough look into the historical details surrounding John Newton see the video at the bottom of this post. Personally, I am more interested in how his story relates to us all.)
John Newton was by his own admission a wretch and blasphemer. He was raised by a Christian mother who had high hopes for him to become a pastor one day. But she died when he was just a boy. In his adolecsence he pursued his dream of life as a sailor and eventually became a captain of a slave ship. He revealed that during this time he sinned with a high hand and made it a practice to tempt and seduce others.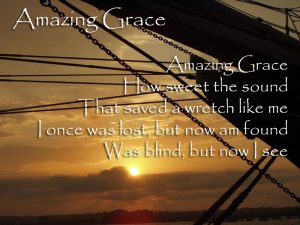 I can only imagine all of the lives he destroyed and the horrors he inflicted on others as a slave trader and the wicked man that he confessed to be… but all of this mans wickedness provides a context for how truly amazing God's grace is.
God forgave him.
God embraced him.
God saved him.
God's grace is his unmerited favor toward all sinners won for us by the loving sacrifice of God's dearly loved Son, Jesus. God's grace is his smile upon you. It is a warm hug from God in spite of all your filthiness and that which you think makes you unworthy. In fact, it is his loving kindness that cleanses the filthiness from us. As we receive his love and the Fathers embrace, we are healed.
As I think on John Newtons story I can't help but think of the story Jesus told of the prodigal son. Jesus told this story to reveal the Father's heart toward all us sinners. He runs to meet you. He embraces you. He freely forgives and forgets how you have wronged him. He will NEVER bring up your past shame… ever again. You are his beloved child.
I have been moved to tears so many times by the prodigal son story. When I hear a song about it or when I read the passage in Luke 15, it moves me. Why? Because I can relate. I am that foolish prodigal son who is often so ignorant of how loved he truly is… but I'm gradually catching on. Thank you God for your patience! At other times I have been like that older son who perhaps represents all the religious self-righteous who can't rejoice in the redemption of their brother. Both need to come home to Papa. Both will find grace when they do.
I love the Scripture that says, "God is patient with you, not wanting anyone to perish, but everyone to come to repentance." (2 Peter 3:9 NIV)
There is no one beyond the grace of God. You are not beyond his reach. There is no one you know or have even ever heard about that is beyond the grace of God. With all the profound sinners the world has to offer, Jesus sacrifice covers them all.
This is scandalous! I once got fired for talking about how scandalous God's grace is. He forgives serial killers and rapists, he forgives pedophiles and child abusers. He forgives torturers and sex traffickers, He forgives porn stars and porn addicts. These all are, after all, his lost kids that he is reaching out to, aching for them, anxious to forgive them, anxious for them to return home.
"And such were some of you. But you were washed, you were sanctified, you were justified in the name of the Lord Jesus Christ and by the Spirit of our God." (1 Corinthians 6:11 ESV)
This is the good news.
God saves sinners, no matter how far gone, no matter how bad off. There is hope for us all.
And now you can take this message of grace to anyone, anywhere.
Watch the video below to learn more details of John Newtons story:
Amazing Grace The Story Behind the Song from Oxvision Films on Vimeo.
The Story of the Prodigal Son
Jesus told them this story: "A man had two sons. 12 The younger son told his father, 'I want my share of your estate now before you die.' So his father agreed to divide his wealth between his sons.
13 "A few days later this younger son packed all his belongings and moved to a distant land, and there he wasted all his money in wild living. 14 About the time his money ran out, a great famine swept over the land, and he began to starve. 15 He persuaded a local farmer to hire him, and the man sent him into his fields to feed the pigs. 16 The young man became so hungry that even the pods he was feeding the pigs looked good to him. But no one gave him anything.
17 "When he finally came to his senses, he said to himself, 'At home even the hired servants have food enough to spare, and here I am dying of hunger! 18 I will go home to my father and say, "Father, I have sinned against both heaven and you, 19 and I am no longer worthy of being called your son. Please take me on as a hired servant."'
20 "So he returned home to his father. And while he was still a long way off, his father saw him coming. Filled with love and compassion, he ran to his son, embraced him, and kissed him. 21 His son said to him, 'Father, I have sinned against both heaven and you, and I am no longer worthy of being called your son.'
22 "But his father said to the servants, 'Quick! Bring the finest robe in the house and put it on him. Get a ring for his finger and sandals for his feet. 23 And kill the calf we have been fattening. We must celebrate with a feast, 24 for this son of mine was dead and has now returned to life. He was lost, but now he is found.' So the party began.
25 "Meanwhile, the older son was in the fields working. When he returned home, he heard music and dancing in the house, 26 and he asked one of the servants what was going on. 27 'Your brother is back,' he was told, 'and your father has killed the fattened calf. We are celebrating because of his safe return.'
28 "The older brother was angry and wouldn't go in. His father came out and begged him, 29 but he replied, 'All these years I've slaved for you and never once refused to do a single thing you told me to. And in all that time you never gave me even one young goat for a feast with my friends. 30 Yet when this son of yours comes back after squandering your money on prostitutes, you celebrate by killing the fattened calf!'
31 "His father said to him, 'Look, dear son, you have always stayed by me, and everything I have is yours. 32 We had to celebrate this happy day. For your brother was dead and has come back to life! He was lost, but now he is found!'" (Luke 15 NLT)
Click here to learn more about Amazing Grace
Lyrics:
Amazing Grace, how sweet the sound,
That saved a wretch like me.
I once was lost but now am found,
Was blind, but now I see.
T'was Grace that taught my heart to fear.
And Grace, my fears relieved.
How precious did that Grace appear
The hour I first believed.
Through many dangers, toils and snares
I have already come;
'Tis Grace that brought me safe thus far
and Grace will lead me home.
When we've been there ten thousand years
Bright shining as the sun.
We've no less days to sing God's praise
Than when we've first begun