"Bad Note Pruning Piano Tuning"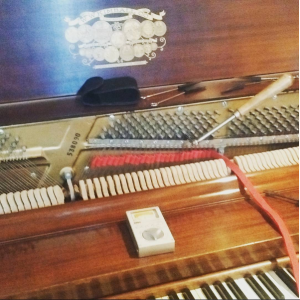 Looking for a piano tuner near the Appleton WI area in Northeast Wisconsin?
I'm pleased to announce that I am now tuning pianos!
Price: $85 for a tuning, $65 extra for a pitch raise
Contact me to set up an appointment
Reviews:
"Wonderful job! Great price too. Very pleased. Thank you!" -Dean

"Sounds good! I'm not used to a piano that's in tune!" -Katrina
Important things to consider when hiring a piano tuner:
Make sure the piano tuner that you hire has some experience and can properly set the pins and strings properly to hold the tune. A piano should hold it's tune for many months (depending on weather and temperature fluctuations – we are at the mercy of the subjected conditions!). However, there can be problems with some pianos having loose pins or other defects. (The usual professional fix for loose pins is to apply CA glue around the pins and NOT to replace pins unless absolutely necessary.)
If you decide to learn to tune your own piano, it can be done but will require you to do the required research and practice. You must also acquire the necessary tools which include a tuning hammer (wrench), and the mutes and felt strips.
Care for your Piano!
Please keep your piano out of direct sunlight, placed on an interior (not exterior) wall away from heating vents!