At the core of Reflect (or Reflect Worship) is the seasoned husband-and-wife singer/songwriter duo Daniel & Catherine Lovett. With songs full of depth and meaning, their lyrically driven music is Christ centered, personal in tone, with an underlying sense of peace. Themes of hope, forgiveness, redemption, and most of all worship, permeate their music and message.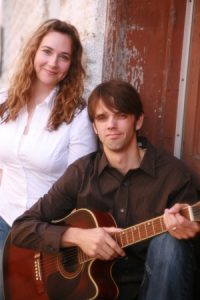 Daniel and Catherine were destined to make music together. Since their marriage in 2001 they have produced four albums and two precious little girls, Ellie and Emma.
They have played at numerous churches and coffee shops throughout Northeast Wisconsin and perform annually at the Cup O' Joy in Green Bay, WI. They also have performed at the annual Christian music festival, Lifest and at Harmony by the Bay music festival in Menominee, MI.
Currently Daniel & Catherine are itinerant worship leaders serving area churches with a passion to see God use their music and their intimate style of worship to touch and transform people with Gods presence. (Also available for speaking engagements – see contact/booking).
Reflect's latest release,Reflect, Amazing Grace, is an acoustic collection of well loved hymns themed around the song Amazing Grace. What could be more vital and central to understanding God and the gospel than to have a firm grasp on his grace. The beauty part of it is when we come to recognize that his grace has a firm grasp on us!
Highlights of this project are, of course, Amazing Grace, featuring Catherine and her piano and an all new hallelujah chorus. Other tracks that stand out are the Sufjan Stevens inspired Fairest Lord Jesus, How Firm a foundation (which has a guitar solo that you might just find humming for awhile… I did), Before the Throne of God Above (which opens with a lush open "C" tuning and tasteful drums)… I could mention something interesting about all the tracks and our hope is that you'll take the time to listen to them all.
Their version of I Surrender All was inspired by a song by the band The Civil Wars called Poison and Wine. It has been so freeing to see what a privilege it is that we get to surrender to love, to grace, to this good God of ours who just loves us all so very much. This is who we get to give our all to… Jesus. Yeshua. God in the flesh who went to the cross for you and me because he loves us that much.
We pray you are blessed by this latest collection of songs. If you'd like to help fulfill the vision for seeing a copy sent to every Nursing Home in Northeast Wisconsin, please donate here at our website, or purchase the album. All the proceeds go toward our ministry to nursing homes.
Their release, aptly named "I Will Bring You Peace", carries the listener on a journey of redemption and peace.  Moving worship tracks like "No One Else", "Take My Away", and "You Alone" reflects their heart for corporate worship.  While "You See Me", "Erased", and "Transformed" eloquently describe the delight found in a restored relationship with God.
Here is a review one person wrote as they experienced this latest album:
"Enter the process of transparent heart cries, letting go, the gentle wooing of God's love, biblical and personal declarations of faith and the delight of receiving God's love all in one CD! Musically gentle and delightful, yet deep calling unto deep. A treasure to be shared."

~ Jane Wojta – Manitowoc, WI
All albums available for "pay what you want" download at: www.reflect.bandcamp.com
Since 2006, Daniel has discovered a passion for serving the elderly in nursing homes and assisted living facilities.  He brings his guitar, his peaceful spirit, and spiritually enriching entertainment to those living in nursing homes on a daily basis.  This area of his ministry has really grown – playing a total of 368 concerts in nursing homes in 2010, and around 500 in 2012.
The Reflect Hymn project, released December of 2008, is a peaceful acoustic collection of classic hymns such as "Amazing Grace", "In the Garden", "Rock of Ages", and includes one original song about finding peace in the love of Jesus called "Before the Daisies Grow". Read the full story of how this album is making a difference at our Nursing Home Ministry page.
An even earlier release, their 2005 self-titled debut album Reflect, is in the same vein as Enter the Worship Circle. The songs on this project were inspired by the Psalms and other Scriptures and convey a sense of intimacy and a passion for God's presence.
Their band name "Reflect" comes from a Scripture verse found in 2 Corinthians 3:18: "…that we can be mirrors that brightly reflect the glory of the Lord. And as the Spirit of the Lord works within us, we become more and more like him and reflect his glory even more."